Here is the table of recommended maximum power ratings: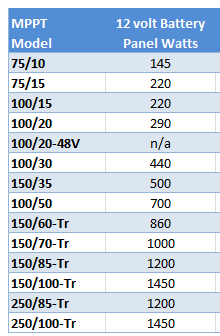 The charge controller will only pass its rated amps which is the second part of the model number. 100/20 means 100 volts maximum input, 20 Amps maximum output. If you have more power available the excess is wasted.

Example:
If your battery was flat (12 volts) and you had 300 Watts of power available then the formula Watts=Volts x Amps gives you 300 Watts = 12 Volts x 25 Amps In this case 5 Amps (20% of output) is being wasted.

This is an extreme example, normally the battery voltage is higher, see below

When the battery gets up to 13 volts then the numbers become 300 Watts = 13 Volts x 23 Amps so you are still wasting power but not as much

At 14.4 volts the numbers become 300 Watts = 14.4 Volts x 20.8 Amps so we are still wasting 0.8 Amps

Solar power is expensive so we dont want to waste any, it doesnt pay to try and economize on charge controllers.